04.19.07
This is hilarious.
Sex doll for dogs.
04.11.07
I just got it and I love it.
I've been playing with it for a few days now and it's a wonderful device. Like I said in a previous post, this is the player I've been looking for. I've been a fan of subscription services for a while now. I've tried Yahoo, Rhapsody, Napster, and Urge and they all have their pluses and minuses but all are awesome in the fact that you have access to all the songs you want for a monthly fee.
It's surprisingly addictiing playing with this device because it is connected to the internet. Viewing the day's cool photos from Flickr or streaming LaunchCast stations and being able to download the song (if available) all from the device is just plain awesome.
Awesome:
+Speaker on the back. Great feature. Sometimes, I don't want to have headphones or earbuds on. Although the quality on this little speaker isn't all that, just being able to hear the tunes without headphones is nice. Works great when you're taking a shower.
+Access to your Yahoo Music Engine playlist. Your playlists are stored online on your account. You can access your playlists and queue them to download all from the Connect. No direct streaming though.
+Flickr photos. You get a menu item of the coolest photos of the day along with access to your own flickr photos. Nice feature. I was confused a bit on how to get out of the slideshow. You gotta press the left menu button to return to the photo list.
+Simple interface. It's very intuitive to navigate around.
+LaunchCast. It works just like using the Yahoo Music Engine or from the web browser. You can select among the many stations they have available and select stations to be included in your 'Favorite Stations'. I mostly use this device to access 'My Station'. The songs that come up are determined by my ratings of songs/artist/album. Interesting note.. just like from the web, if you don't have a subscription, you can't skip songs. But of course since you should have a Yahoo To Go subscription, you can skip streaming radio songs.
+Library Syncronizing. I love that whatever I download from the Connect, it shows up in my YME library on my PC. I have YME set to just link the songs (streaming the song) that were added to my library. Otherwise, it would start automatically downloading the songs you previously added to the Connect.
+Ability to download the song (if available) when using LaunchCast. You can also queue up the album to download. This is a great way to fill up your Connect. If you like the song that's streaming, you can simply grab it.
+Ratings. You can rate a song and it'll sync up to your account dynamically. This is awesome. Rating songs/artists/albums is very addicting and helps determine your 'My Stations' in LaunchCast and 'Yahoo! Music Recommendations' in the Get More Music section.
+ WEP/WPA support. I was able to connect to my router no problem.
+In the download queue, you can bump a song up to the top of the queue to download immediately. It's the little things that are great. Downloads are also run in the background. It just shows up in your library when completed.
+You can stream music, download songs, and view your online Flickr photos all at the same time. Yay for multitasking.
Sucks:.
-No streaming of songs from your local network. Only can stream songs from Launchcast. Would be nice if you can use this device to access your YME library that's sitting on your PC.
-No streaming of songs in the Yahoo 'Get More Songs' section. Download only option.
-No streaming of songs when you choose 'Make a Mix like this Song' on a song. The songs are queued to download instead.
-No search function when in the Yahoo 'Get More Music' section. This would put the icing on the cake if this option were available.. I would love to be able to search and download the 2 million+ song library all from this device.
-No line in recording.
-No FM tuner.
-No Mic In. This would be nice to have if Skype were somehow added.
-No ability to queue up additional songs. Or basically go into your library and add songs to the Now Playing list.
-No ability to create playlists from the device.
-When using the Yahoo Messenger, you can only send song recommendations to friends. Can't chat.
- No customization of the menu or a programmable key. One nice feature of the Creative Zen:M is that there's a button you can program to select any of the menu items. You can also select what goes on the main menu. Would be nice here to go straight to, for instance, my playlists. There's a lot of navigating going on with this device. You will catch yourself accidentally moving the sensitive scroll wheel and end up going through all the steps of the menu to get back to where you were.
-Headphone jack is on the bottom of the device.
Neutral:
+ Zing hasn't been hacked yet. The fact that this thing has WiFi opens up so many things you can do. It can access the internet..
+ The scroll wheel. It's a bit sensitive and takes getting used to. I'd prefer a directional pad with the center enter button like the Zune. I'm getting used to the wheel though. Scrolling fast is great with this as you can spin the wheel very fast. It also feels like you're scratching a record which is cool. Makes you want to master the sensitivity of the wheel. When entering password information, the quickness of the wheel helps.
+ It feels like a cell phone. It seems the interface is made to be run from a cell phone. There's left & right menu buttons. Speaker on the back. An extra microSD slot.
04.10.07
I'm going to check out Circuit City today and see if they have a Sansa Connect.
This is the kind of MP3 player I've been looking for. It has WiFi and can download subscription music straight from Yahoo Music subscription service.
I'm currently subscribed to Urge and it works great. I'm definitely willing to switch back to Yahoo again though. I miss the online playlists and the ratings system.
But having a player that can access subscription music directly, along with access to your Flickr photos all without connecting to a computer, is a wonderful thing. It can also stream Yahoo's LaunchCast radio directly as well.
I just hope it can access WPA or WEP networks. The description reads it needs an open wifi connection but read it can use a secure wifi connection.
Here's a nice overview of the device I found on YouTube:

04.05.07
From jkontherun.
If you're mobile at anytime during the next four days, you don't need to miss The Masters golf tourney. Using your web browser hop over to this link; you'll need to have Windows Media Player or Real Player installed. I'm watching a live feed right now of the holes known as "Amen Corner", which CBS will broadcast live for all four rounds. The network will also provide full-field coverage on all four days in a limited window, so check the schedule for details. Unfortunately, it looks like you'll need a full computer to watch; CBS isn't providing an option for smartphones that I can see. On the plus side, there's a full-screen option that works really well on a UMPC!
04.03.07
I'm so getting this. The Rocket Fishing Rod. It's a big ol blaster gun that launches your bait 30 feet.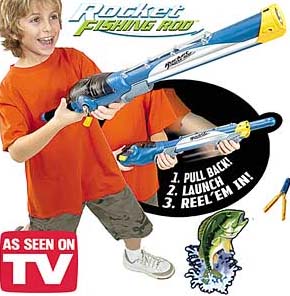 04.02.07
I used to watch this movie all the time. We had it recorded on a VHS tape. Hilarious.